Audi Truth in 24 II Movie Release
THE HIGHLY ANTICIPATED
SPECIAL RED CARPET MOVIE PREMIER OF

TRUTH IN 24 II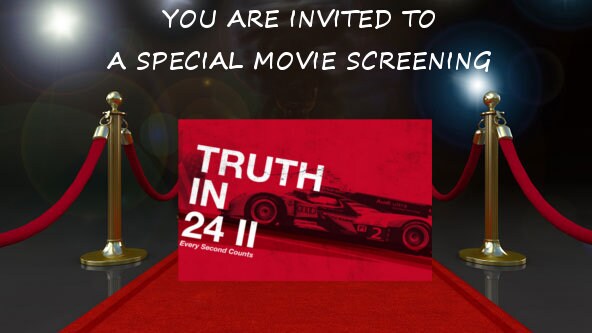 You are cordially invited to a special sneak preview of the Truth in 24 II movie premier at Jim Ellis Audi Marietta. This incredible film captures the invigorating moments of the 24 hours of Le Mans. In 2011 Audi was seeking its tenth victory when tragedy struck -twice. One lone Audi R18 TDI racecar remained to fight three Peugeots. Join us for a night of film fun and Audi fanatics as we watch one of the most amazing Audi moments of all times. For more information or to register for a guest pass please leave your contact information below.
Screening One:
Friday April 27, 8:30 pm at Jim Ellis Audi Marietta 1715 Cobb Parkway, Marietta Ga 30060
Screening Two:
Get Connected Event- Thursday May 24 6:30 pm at Foundry at Puritan Mill, 916 Joseph E Lowery Bl NW # 11 Atlanta, GA 30318
Movie Quote: " I think luck is an excuse for people that have failed in their mission to do something.."
MOVIE REVIEW:
"Truth in 24" chronicles the Audi Sport racing teams as they attempt to win a record fifth consecutive 24 Hours of Le Mans. The films gives viewers an unprecedented behind-the-scenes view of the strategies engineers and drivers use as they set out to make history. Unlike any sports production, the film brings out all the drama and emotion of the 76-year old race and the people trying to win it.
Watch the 2008 film
here
Check out the trailer below or leave your contact info to register for a guest pass for you and a friend. Follow us on Facebook or Twitter for more exciting Audi moments!